7 Ways Dinwiddie County Public Schools Uses Career & College Readiness Data
Building a career readiness program that accounts for all students is only possible if it's powered by data. From connecting individual students to pathways that fit their unique interests to hiring teachers for new courses, school administrators must rely on career readiness data to make sustainable programmatic choices.

At Dinwiddie County Public Schools (DCPS), Carly Woolfolk—the Director of Secondary Education and CTE—ensures that data is at the core of every career readiness programming decision her team makes. Leveraging data from MajorClarity and other sources, she has adopted a replicable model for continuous improvement at DCPS.

Applying the "Three Circle Model" to Data Design

The three-circle model, a common approach to designing CTE programs, advocates for combining three components: classroom instruction (contextual learning), supervised experiential programs (work-based learning), and student leadership programs (personal leadership opportunities).

Applying a similar perspective to data planning, Carly proposes three components for career readiness data that—when combined—provide a view greater than the sum of its parts.

"Connecting these three [components] in a meaningful way provides the most opportunities for our students."
- Carly Woolfolk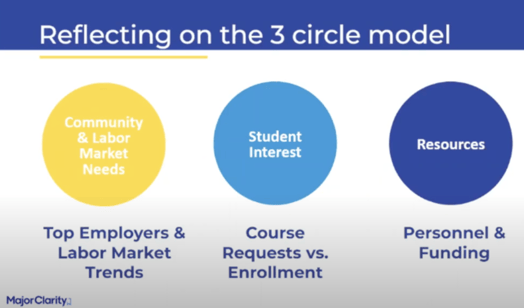 👉 Hear Carly describe the Three Circle Model 👈
Critical Components of Career Readiness Data
Community & Labor Market Needs
Student Interest
Resources
Community & Labor Market Needs
Data Sources: Top Employers, Labor Market Trends
"Trends" is the key word. For instance, Carly recommends going beyond determining the largest local employer or fields with the highest earning potential to also consider which industries are growing quickly and/or align with a broad range of student interests.
Understanding local workforce needs and opportunities is especially critical given that most American adults live within 18 miles of their hometown. Being selective by building pathways based on community needs and trends allows students to focus on the correlation between their interests and career options.

"A lot of times, we start with what the teachers want or what the students want. But if our true goal is to build a sustainable community, we have to start with 'what is it our region needs?'"
- Carly Woolfolk
Student Interest
Data Sources: Course Requests, MajorClarity Data, Course Enrollments
Gauging student interests requires gathering data from multiple angles. At DCPS, a student survey is taken each fall where students review the pathways they select in their Academic Career Plan (ACP). It's used by counseling during the spring to ensure that a student's course selections align with their chosen pathway.
Carly then compares this data with the "Top 3 Careers" data from MajorClarity, allowing her to see not only what students are saying they're interested in but also what careers align with their personality & learning style assessments. And as students complete career test-drives (video interviews, simulations, and activities), their rankings make scores more and more accurate at identifying student interests.
Resources
Data Sources: Personnel, Equipment, Space, Funding
In addition to assessing needs and interests, Carly considers what resources already exist within their schools such as personnel, equipment, space, and new funding sources. This can paint a picture for what opportunities already exist for building programming.
👉 Watch Carly discuss the 3 critical components 👈
7 Ways to Use CCR Data in your District
It's by triangulating these three types of career readiness data together that Carly is able to make data-driven decisions for optimizing and growing their programs at DCPS.
1. Pathway Development or Expansion: Start first by assessing what pathways you have, organizing them to make sense, and figuring out the sequences that exist within the pathways.
2. Current and Future Staffing Needs: Be intentional about course catalog selections and making sure you're able to have teachers on staff for those courses, while also weighing the top pathway selections by students.
3. Work-Based Learning Opportunities & Potential Business Partnerships: Host career events by strategically selecting organizations while also keeping in mind the goal of contributing to the community that you live in.
4. Grant Funding Opportunities & Priorities: Gather needs assessment and program audit data required for grant funding, then use it to identify new funding streams and prioritize Perkins and/or state CTE funding.
5. Professional Development Needs: Use data from student interests and MajorClarity usage rates to identify professional learning opportunities for all school staff (teachers, counselors, and administrators) around career and college readiness and the academic career planning process (ACP).
6. Equipment Needs: Identify the cost of new courses by identifying funding sources at the beginning and end of the year, personnel needs, and any shifts needed to fit the course into the catalog.
7. Advisory Board Development: Boost the impact of advisory boards by tying membership to trends in the labor market, giving work-based learning (WBL) partners an active role in the school community as mentors to students in small group settings based on interests.
Building A Culture of Data
Using career readiness data requires a team approach and intentional data design. Start by auditing what you have and assessing the questions left to answer.
Consider survey fatigue. Often, career exploration tools like MajorClarity can offer easy insight into student needs by gathering trends across student activity.
Most importantly, communicate with career readiness partners in counseling and CTE. School staff need to know the 'why' of data, and sharing these data trends helps with a meaningful and impactful planning process.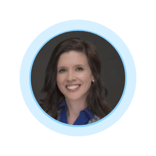 "Career and college readiness is an ongoing process because the data is always evolving. You have to look for big trends, and utilize them to your advantage."
- Carly Woolfolk



View the full webinar on-demand
Ready to see MajorClarity in Action? Schedule a demo.
About Carly
Carly Woolfolk oversees the Secondary Education and Career & Technical Education (CTE) programs for Dinwiddie County Public Schools (DCPS), where she supervises all aspects of the 6-12th grade curriculum and the development and supervision of related grants. Additionally, Carly represents the John Tyler Community College for Career and Education Consortium division, serves as the Adult Education point of contact, and is a member of the Crater Regional Workforce Development Board.

About Dinwiddie
Dinwiddie County Schools is a small district in Virginia serving approximately 4,100 K-12 students with a focus in agricultural, manufacturing, and logistics industries. The district has been a MajorClarity partner since 2018.